Nowadays, in the vast majority of cases, users are required to put in an incredible amount of effort to earn a profit from cryptocurrencies. Gone are the early days of the market when people could make money quickly. It's just like equity or any other investment vehicle — money doesn't come easy after the first adoption wave.
New investors have to compete with a swathe of seasoned veterans who have had years to study the market. Hedge funds and big-name investors have also joined the game, bringing with them years of knowledge and experience from other asset classes. As we enter this matured stage, it's going to be more challenging to earn a big profit in short periods.
Furthermore, the ever-growing range of assets has led to confusion about where to invest. While the market has matured, there is still so much happening in terms of investment products. This leads novice investors to be overwhelmed with the volume of information. The big question is, where does one start? How does one get into Bitcoin and the future of finance?
One effective strategy is to start with the Overbit Rewards Hub. It is specifically designed to aid new investors by giving them tools with which they can navigate the markets without much upfront capital. The hub also encourages investors to participate in some low-risk trades and activities to familiarise themselves with cryptocurrency trading.
Moreover, new investors have an arsenal of tools at their disposal to read the market and earn a decent sum. You won't have to learn how to read a candle chart or know what a trailing stop loss is! As we shall see below, the Overbit Rewards Hub can result in significant gains in just a few days.
A Quick Look at the Rewards Hub
A quick run-down of the Overbit interface would be a good place to start. Assuming you've already created an account, you'll notice that you have a trade screen with all of the expected functions of an exchange.
One feature worth mentioning in detail is that you can create a demo account to test the platform out. You won't need any funds upfront, and you'll even get a little cash to work with. This way, you can try out all of the Rewards Hub activities and even calculate your potential earnings after a set period of time!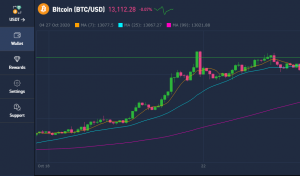 You'll also notice a "Rewards" button on the left side of your screen. This is where the magic happens. Here, you'll be able to check all of the activities associated with the Rewards Hub, including missions, logins, and tasks.
By doing various associated activities you'll earn "Tier Points" (TPs), which you can use to redeem crypto rewards. This includes a daily check-in reward, which is described in detail below.
You'll receive your rewards in either Bitcoin (BTC) or the stablecoin Tether (USDT). This is a good time to explain why this is great, if you're an absolute beginner.
Remember, when we said that there are so many investment options that investing can be overwhelming? Well, two of the safest options for new investors are Bitcoin, the market's biggest asset, and a stablecoin, a crypto asset that is pegged to a fiat currency on a 1:1 ratio. Tether is one such stablecoin and the market's most popular choice, next to USD Coin (USDC). These have been among the best cryptocurrencies to invest with in 2020, a year of volatility.
By earning your rewards in BTC or USDT, you'll immediately immerse yourself with the market's most popular choice for trading. BTC has a high potential for price appreciation, so that's a good long-term bet. USDT, on the other hand, is a stablecoin that is not susceptible to volatility, so it makes for a good choice when the market is unstable.
Therefore, you'll receive TPs for the various activities you partake in. Let's take a closer look at these activities and how much you can earn from them over time.
Different Ways You Can Earn Rewards
Let's assume that a new trader called Satoshi has created an account. The first thing he would need to do is check in on the rewards tab on the right side.
This is the simplest way — one that is immediately accessible — to earn TPs. All Satoshi needs to do is log in every day. For each daily login, a reward of 1 TP is offered. If the streak is broken, Satoshi starts over from the beginning. However, after six consecutive days of logging in, he gain a much larger reward.
Besides daily logins, Satoshi also has the option of missions and events, which frequently changes to keep participation fresh. For example, he can enable two-factor authentication rewards, which nets him 10 TPs. Other missions include performing KYC processes like adding a phone number.
Bigger rewards are given for more trading-oriented activities, such as depositing BTC or USDT, for which Satoshi will earn 40 TPs each. This teaches the trader how to use the platform and rewards them for doing it at the same time. The highest mission rewards offer as much as 100 TPs, and usually require users to be more involved in trading.
The Rewards Hub is expected to add more missions over time. Besides, there will also be events, which are timed promotional campaigns that can be incredibly lucrative. Watch out for those as you regularly log in, as they can provide some hefty rewards.
Adding these rewards up, within the first week, Satoshi can earn as much as 420 TPs!
How Much Can You Earn?
Satoshi will get more rewards, the more he engages with the platform. Let's assume Satoshi has resolved all the basic missions, in addition to his daily logins.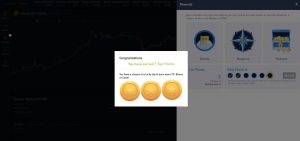 Now Satoshi wants to cash in on the rewards. A quick look at the rewards schemes will tell him how much his TPs are worth.
Altogether, he is more or less halfway to his first 1000 TPs. The ability to cash out in increments of 1000 also means that you can still cash out at a lower reward level. Remember, TPs can be redeemed in increments of 1000, with 10,000 giving you as much as 0.65 BTC! At today's price points, that's worth over $10,000!
However, the minimum TPs required is set at 1000, so Satoshi will need to interact a little more to get his first cash reward. For 1000 TP, he gets 0.06 BTC, or just under $1000. With a bit of trading and participating in the events programs, he can constantly add to his TPs, which should elevate his TP reserve to 1000 — equivalent to his first $1000 in BTC!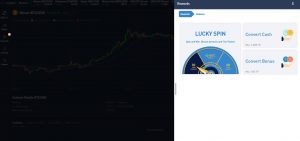 We haven't mentioned the lucky spin yet, which is another way your TPs can be spent. For the cost of 10 TPs, Satoshi can engage in a spin-the-wheel-like game that can net you BTC, USDT, or more TPs (or an unlucky nothing!). You can earn as much as 0.05 BTC this way — which is about $800!
Once you understand the potential to gain BTCs via TPs, you will be incentivised to log in every day! Even if you're only a casual trader that enters the market once in a while, you can still accumulate TPs by daily logins and checking on the events. You can then use those earned TPs at the lucky spin wheel, which could be very profitable — if you're lucky!
All in all, it should take you a few weeks to get your cash reward, if you're diligent and active on the platform. And with the incentives at hand, it's hard to see why that shouldn't be the case.
Earning 0.1 BTC on Overbit in About a Week Without Trading
It's best to assume that you've done all you can to earn TPs without trading, i.e. all KYC activities and the events available. This should give you a total of 500 TPs.
With religious consecutive daily logins on the exchange, you can earn a sizable number of TPs over time — and essentially guarantee BTC earnings. However, from this point on, you're going to need a bit of luck if you wish to earn 0.1 BTC without trading. And this is because you'll need to earn the rewards using the lucky spin. Some users might not be so fortunate, but you might be!
If you go to the lucky spin, you'll see that there is a potential reward of 0.05 BTC — which is about $1000! If you've got enough TPs and are lucky enough, you could earn 0.05 BTC twice this way — making your first 0.1 BTC earned via rewards!
The Potential is Great
CEO Chieh has made it a point to gamify the process of trading, which makes the whole experience enticingly engaging and familiar. The main design principle is that people can be taught how to deal with the market by drip-feeding them rewards for engaging with the platform. In other words, Overbit Rewards Hub was designed with a gainful and fast learning curve in mind.
There's another big aspect for users that hasn't been mentioned yet — you can earn rewards at any time as prizes and bonuses are distributed 24/7. No other exchange offers a system like this. Even with a cursory comparison, you will find that Overbit is a one-of-a-kind program.
The Rewards Hub imitates the intricate feedback loops of a video game, where the rewards earned inside are fed directly back into the interaction of the game. Except here, the financial rewards are real instead of imaginary. Moreover, your financial education will serve as a reward on its own, pushing you ever-onward.
Users need to note that the Rewards Hub is restricted in some countries, including the United States, Cuba, Iran, Syria, and North Korea. This list is also subject to change over time. However, besides these, we support every other country, which totals at over 200.
The Rewards Hub is built to help traders learn more about the market and make their way towards financial freedom. Not only can you become more aware of how cryptocurrency trading works, but you can also get paid to do it. Such a strategy is critical in attracting and retaining users.
Crypto Profits for Even Novice Traders
As you can see, just simple, daily usage of the platform can result in good gains over time. You don't have to be the smartest trader or the one with the most capital to earn decent profits. We're well aware that for some people the question of 'how do you buy Bitcoin?' still troubles them. But with Overbit, all you need is patience and a willingness to stick with the platform.
The value of gaining trading skills cannot be understated, which is why the TP rewards are so closely tied to activities that help you fully understand the trading platform. It will not be long before you can earn your first 1000 TPs, which can be redeemed towards trying to get your first BTC — so the sooner you start, the better.
To get started with earning you free crypto rewards, visit Overbit.com, and set up an account. You can also follow Overbit on Telegram, Twitter, Instagram, and Facebook.
Disclaimer:
The content on Overbit's website, blog, social media or any other platform is not intended to target any specific country or territory and its residents. Please check the applicable regulations of your country or territory before accessing Overbit's platform.
The information contained in our publications is not, and should not be read as, an offer or recommendation to buy or sell or a solicitation of an offer or recommendation to buy or sell any positions.  Our publications are not, and should not be seen as, a recommendation to use any particular investment strategy.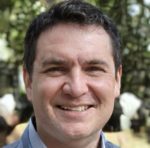 Peter is a journalist, public speaker, and podcast host. He has over 10 years of experience writing about technology and business, finance, technology space since 2017. he is currently writing a book.