Moony loves cooking and would like to introduce as many people as possible to Surinamese cuisine, so she started her food blog with the idea of sharing her grandma's and mothers Surinamese recipe's and delicacies.
The Surinamese cuisine and Suriname Recipe are extensive, because the population of Suriname comes from almost all continents; Surinamese cuisine is therefore a combination of a large number of international cuisines, including Hindustani (India), African, Javanese (Indonesia), Chinese, Dutch, Jewish, Portuguese and Native American.
This has ensured that the Surinamese kitchen has many dishes; the different population groups then started to use and influence each other's dishes and ingredients (fusion), from which new Surinamese dishes emerged, including: moksalesi, roti, Surinamese nasi goreng, Javaanse bami, pom, snesi foroe, moksi meti, losi foroe. The unique Surinamese kitchen was created from this mixture of cultures with Surinamese.
So if you want to learn some interesting Surinam Recipe's visit her food blog for more information: https://Moony4ever.blog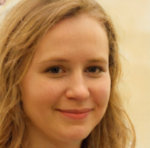 Rachael Villam is a certified crypto zealot, finance writer, and a steady swing trader. She is passionate about blockchain's capacity to transform cities, commerce, and the entire banking system as we know it. Dune bashing, camping, and working with kids are his non-crypto interests.