Gond painting by Dilip Shyam was displayed at the United Nations Climate Change Conference COP25 held recently in Spain. Depicting the scene of tree cutting and its impact on the environment, it was among the 25 artworks selected from across the globe to highlight the biggest challenge of our times-'climate change'.
This clearly highlights how tribal Indian art has gradually found its way from mudwalls to the global stage!
Indeed, it was the efforts of the pioneering Gond artist, Jangarh Singh Shyam that brought fame to this tribal art form. He was the first to use paper and canvas to create hypnotic Gond paintings bursting with bright colors and motion.
Various art galleries and studios have also popularised Gond art, and thanks to e-commerce, this colorful work of Indian art is now accessible to international collectors at the click of a button.
Let's explore more about this intriguing art form finding its origin in the heart of India:
Gond art is a folk art of painting practiced by one of the largest aboriginal tribal groups in India with whom it shares its name.
Predominantly from central India in Madhya Pradesh, the history of Adivasi Community of Gonds dates nearly 1400 years. They can also be found in pockets of Eastern Maharashtra, Andhra Pradesh, Uttar Pradesh, Telangana, Chhatisgarh, and Odisha.
Gond comes from the Dravidian expression, Kond which means 'the green mountain'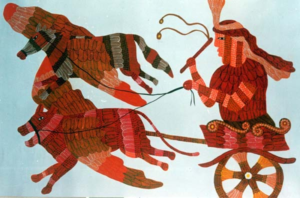 Source: https://www.bananivista.com/  Painting by Venkat Shyam
Storytelling is a strong element of every Gond painting, as the works of the artists are rooted deeply in their folk tales and culture.
In fact, Gonds were primarily storytellers who recited folklore and painted on floors and walls with vibrant depictions of local flora, fauna, and deities. Traditionally, such artworks were done on festive occasions and celebrations such as marriage, karwa chauth, diwali, ashtami, showcasing various celebrations, rituals, and their close connection with nature.
While a majority of Gond paintings do take inspiration from the environment and their surroundings, but their art also features motifs related to the myths and legends of India, their daily lives and dreams.
This mystical art form has a distinctive style that uses characteristic patterns such as carefully drawn lines, dashes, dots, ovals, and fish scales. Lines are drawn to convey a sense of dynamism and movement to still images while dots and dashes are added to impart a greater sense of movement and add detail.
A special soil called Pidor freely available in local areas of Gond is used for preparing the surface of the wall for the painting. The soil is white in color and provides a smooth white-colored background for the painting.
Another very striking feature of Gond paintings is the use of bright and lively colors such as white, red, blue and yellow. The colors used are naturally derived from charcoal, colored soil, plant sap, sem leaves, cow dung and more.
Source:https://www.mojarto.com/  Original Hand Made Gond Painting Showcasing Beautiful Combination Of Colors by Brajbhushan Dhurve
With globalization, Gond tribal art has stepped in the contemporary milieu.
International exposure has encouraged Gond artists to rise above their traditions and cultural settings and paint the idioms of the world in their own unique style.
They now use a rough pencil outline to create the premise of the painting, with paper, and canvas being the new media to paint their visual narratives. Also, acrylic and poster colors are used more often.
Fables, songs that spoke about the mythical characters, the deities, and demons, are no longer the theme of Gond art but the creations on the canvas speak more about Mother Nature. Psychedelic representations of animals including tigers, deer, snakes, cattle, birds and contorting trees still dominate the Gond world.

Source: https://brainart.co/
Carving a niche for itself, the compelling and vibrant patterns of Gond art can be found on the merchandise and everyday commodities such as boxes, cushion covers, wooden trays, and even apparel, which are extremely popular in foreign countries.
In fact, there is a high demand from the US and Europe for this folk art as corporate gifts for overseas clients.
Source: https://en.wikipedia.org/wiki
To survive the test of time, Gond Indian artists have provided a new twist to this folk art form. The creation by artist Venkat Raman Singh Shyam of a 'Smoking Taj' at the Sakahàn: International Indigenous Art at the National Gallery of Canada, in 2013 is worth mentioning!
Wrap Up
Slowly but surely, Gond tribal art is imbibing the contemporary.
What is required is not just to preserve the tradition of Gond tribal Indian art, but also important to encourage its contemporary evolution! 
Good to Know: Interesting Facts!
Gond paintings are of excellent quality and it can last for more than 20 years if kept safely.
This art form resembles aboriginal art from Australia.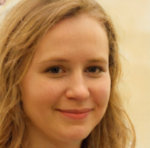 Rachael Villam is a certified crypto zealot, finance writer, and a steady swing trader. She is passionate about blockchain's capacity to transform cities, commerce, and the entire banking system as we know it. Dune bashing, camping, and working with kids are his non-crypto interests.