ATROMG8, the multi-blockchain landscape powered by the innovative MixNet 5.0 superstructure has achieved yet another milestone in its journey towards developing a fast and secure ecosystem for conversations, coworking, PSP  transactions, data exchange, Diploma on Blockchain and social media as a whole. 
It recently got listed on the South Korean platform of global cryptocurrency exchange ProBit. Users will now be able to trade the platform's native token AG8 on proBit as an AG8/USDT trading pair. 
The AG8 token will be fully operational on ProBit, South Korea from 22nd June, 17:00 KST, as a tradable pair with USDT.  
Deposit begins on June 19, 2020, Friday, 17:00 KST
Trading begins on June 22, 2020, Monday, 17:00 KST
Crypto Trading Platform – ProBit
Based in South Korea, the ProBit Global exchange is counted among the renowned crypto exchange, equipped with an advanced and user-friendly dashboard that makes it extremely easy for traders to engage with multiple trading pairs.
Furthermore,  the South Korean exchange also featured among the Top 20 exchanges in terms of the trading volume. Probit currently offers 500 trading pairs.
In these years ProBit Exchange has made its credibility and wide outreach across the world makes it one of the most trusted launchpads for crypto projects. And it is no certainty that ProBit has created a wide community of regular traders, which is a huge benefit for projects, as it allows them to access a global audience without spending a fortune. Here are a few notable statistics:
100,000+ community members

500,000+ monthly active users

2,500,000 monthly web visitors

40,000,000 users on partnering aggregators and wallets such as CoinMarketCap

Global outreach in 8 key languages & markets provided

Multilingual website supporting 25 different languages
ATROMG8's recent inclusion on ProBit as a tradable cryptocurrency with am AG8/USDT pair is a boost for the project's efforts towards global expansion. 
ATROMG8: The Blockchain-Based Platform for Secure Communication
There are a number of drawbacks when it comes to the existing communication system – be it general data exchange or financial transactions. With its innovative MixNet Superstructure Technology, ATROMG8 aims to harness the advanced features of cutting edge technologies like Blockchain and create an optimized ecosystem for safe and secure communication. 
Privacy is one of the looming concerns in today's digital world. To address that issue and ensure an end to end protected communication channel, ATROMG8 has harnessed blockchain technology to develop a decentralized ledger, which various networks can access, and process secure transactions directly via satellite communication. 
ATROMG8 has been designed to serve as a means of exchange, a unit of account, store of value, and a peer to peer transaction vehicle. The platform will be powered by its native tokens named AG8, using which token holders will be able to access and utilize various perks of the ecosystem. Moreover, these tokens will act as a payment method to pay for sending and receiving data, cost of services, and compensation for the Network operators.
All in all, ATROMG8 is an all-inclusive platform that offers safe, secure, seamless, and affordable communication under one single platform. 
The project has been receiving global attention off late, and the recent listing will only strengthen its objective to make the platform easily accessible for users across the globe. Recently, it also got featured on Hackernoon's list of  "Top 20 Promising Blockchain Projects in 2020". 
To know more, please visit the following links: 
ATROMG8 Website: https://atromg8.com/
ProBit: https://support.probit.com/hc/en-us/articles/900001324326
ATROMG8 Official Telegram Group: https://t.me/My_Atronocom_World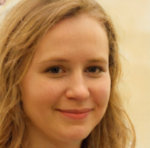 Rachael Villam is a certified crypto zealot, finance writer, and a steady swing trader. She is passionate about blockchain's capacity to transform cities, commerce, and the entire banking system as we know it. Dune bashing, camping, and working with kids are his non-crypto interests.